The Pennsylvania Railroad
Mount Penn Division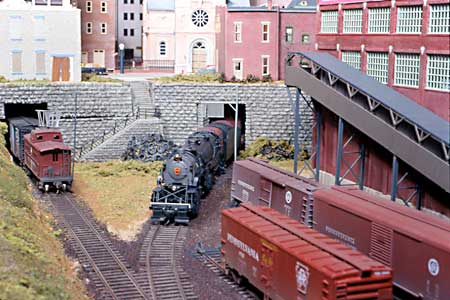 ---
PRR #376, a Proto 2000 Heritage Y-3 2-8-8-2, is entering the Mount Penn Yard from one of two tunnels under the city.
---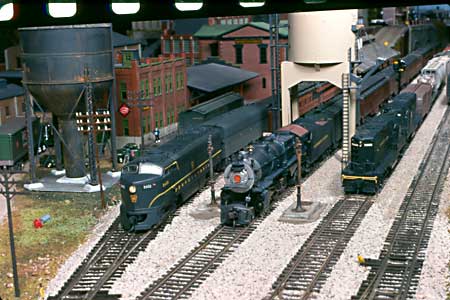 ---
Two passenger trains are ready to depart the busy Mount Penn station, while two Geeps glide their manifest train out of town.
---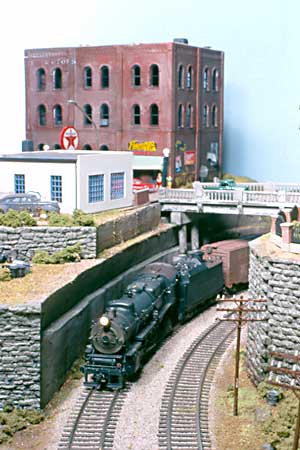 ---
A L1 Mikado (Bowser with extensive super detailing, DCC sound, etc.) round the curve intp Mountn Penn Station.
---
---
Layout At-A-Glance
---
NAME: Mt. Penn Division of the Pennsylvania Railroad
SCALE: HO
SIZE: 20'x10′
PROTOTYPE: Pennsylvania Railroad
PERIOD: 1950's steam to diesel transition
LAYOUT STYLE: Freestanding, walkaround island
LENGTH OF MAINLINE: 160′
LAYOUT HEIGHT: 48″
BENCHWORK: Modular sections with foam insulation for a sub base
ROADBED: Cork
TRACK: Shinohara Code 83
TURNOUT MINIMUM: Shinohara #5's
MINIMUM RADIUS: 24″
MAXIMUM GRADE: 2%
SCENERY CONSTRUCTION: Ground foam and dirt on a Styrofoam base
BACKDROP: Handpainted hardboard
CONTROL: System One DCC
Biography
---
Carl Kuehn, 56, lives with his wife Nancy and their Blue Tick Coon Hound, Winston, in Harrisburg, PA. He is the Executive Director of the Pennsylvania Emergency Manage-ment Agency and is the owner of a local radio station. Carl has been in the hobby for five years and his other interests include golf.
---